The NH Association of Conservation Districts in partnership with the USDA Natural Resources Conservation Service and UNH Cooperative Extension are excited to host three free, soil health workshops for vegetable producers this winter. Soil health expert Jan-Hendrik Cropp will join us from Germany to share his knowledge about soil health management practices on organic and conventional farms.
These free workshops will be held from 8:45am-4:00pm on three different days in three different NH locations:
Monday March 11th – Stonewall Farm, 242 Chesterfield Road, Keene, NH 03431
Wednesday March 13th – Gilford Community Church, 19 Potter Hill Road, Gilford, NH 03249
Thursday March 14th – Three Chimneys Inn, 17 Newmarket Road, Durham, NH 03824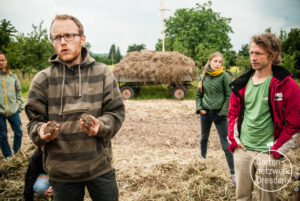 In this workshop Jan-Hendrik Cropp from under_cover in Germany will deliver critical information that NH farmers can employ to better mitigate the effects of flooding, drought, and the increasing frequency and intensity of storms. Cropp will describe how to create no-till or low-till organic cropping systems using diverse living and/or dead mulches (such as cover crops and clover-grass/forage cuttings), along with rotational conservation/minimum tillage to increase soil health.
Additionally, there will also be a farmer panel facilitated by UNH Cooperative Extension to discuss how reduced tillage operations are working in New England. Participants will also receive info on new no-till transplanters and complimentary equipment that will be available for use in NH starting in 2019. Lunch is provided.
Registration is required. If you would like to attend this free workshop, please register online using the links below, or call the Cheshire County Conservation District at 603-756-2988 x116
Keene, NH registration link: https://tinyurl.com/ybuoa5c5
Gilford, NH registration link: https://tinyurl.com/y9m2h627
Durham, NH registration link: https://tinyurl.com/yaetsv3e